Mission Statement
The mission of Sons of Norway is to promote, preserve, and cherish a lasting appreciation of the heritage and culture of Norway and other Nordic countries while growing soundly as a fraternal benefit society and offering maximum benefits to its members.
Sons of Norways misjon er å fremme, ivareta og på lang sikt verne om norske og andre nordiske kulturtradisjoner, samtidig som organisasjonen får vokse og utvikle seg som en broderskapsforening med maksimal hjelp og støtte til alle medlemmer.
Sons of Norway is a fraternal benefit society with lodges throughout the United States, Canada and Norway.
Membership Benefits
Welcome to participate in all lodge activities
Heritage classes - including language, dancing and crafts
Heritage and language camps
Scholarships for: College - Language Camps - Oslo International Summer School - Camp Norway - Many Others
Sports and Recreational Activities: Golf Tournaments - Bowling Tournaments - Horseshoe Tournaments - Cross Country Ski Tournaments - Lodge Picnics
Use of Trollhaugen Recreational Facility at Stampede Pass
Scholarship Application Forms
Sons of Norway Necktie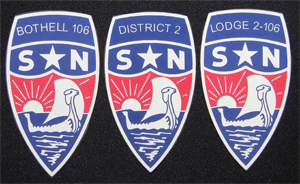 For Sale
Kaja Englund's double wide mobile house with large covered driveway in Green Acres Park, Bothell WA. Kaja, a professional rosemaler has enthused her home with rosemaling on all cabinets, drawers and doors. It is very tastefully done. A must see. Contact George Englund at 425-830-0233 for details.